What is the approximate square foot price for a pre-engineered steel building?
Generally the building square foot price is based upon size, interior and exterior finishes. A square foot estimate can usually be established after the first investigative meeting with the client.
How quickly can the building be erected?
Most buildings, from start to finish – including planning, zoning and permitting, can be built within a 12 month period, but as little as 160-190 days if planning and zoning are already in place,
What's the difference between pre-engineered steel buildings and pole buildings?
Pre-engineered steel buildings are pre-engineered steel construction which are code compliant for commercial and industrial use. Pole buildings are wood-framed and are typically designed for residential, agricultural and also equine facilities. Chapple West handles both types of buildings.
If Chapple West were to build our new building, can we use some of our own subcontractor contacts?
Absolutely! Chapple West has a qualified pool of local subcontracts; however, we would be happy to qualify and check references of customer subcontractor referrals. We always perform an intensive qualification screening of subcontractors, checking insurance requirements, capabilities and references.
What's Construction Management?
Construction Management is based upon the base costs of subcontractors and materials plus a designated percentage management fee. With this type of contract, cost savings are passed along to the customer. Although the customer still approves the preliminary budget and may assist in final bid selections, the bidding process is the primary responsibility of the Construction Manager. Construction Management is a widely accepted practice in public bid projects as well as private projects.
What types of projects does Chapple West do?
Chapple West builds all types of buildings for public and private use – commercial, industrial, warehouse – from 2,000 to 100,000 square feet. We build new facilities, additions to existing buildings, remodel, repair and renovate. We have experience in roof repair work, and hold an Illinois State Roofer's License.
What about roof leaks? How can I be sure that my new building won't leak?
Chapple West provides to all of our customers a workmanship guarantee which "guarantees Owner from any loss or damage arising from any defect in materials or workmanship furnished under contract agreement for a period of one (1) year from the date of completion of the work." Additionally, Kirby Building Systems offers a 25 year roof (material) warranty.
How difficult is it to obtain a building permit? Will Chapple West do this?
The building permit application process can be time consuming and difficult for the inexperienced applicant. This process varies in difficulty depending upon the various city, village or county requirements. Chapple West has a great deal of familiarity and experience with many of the local municipalities and can assist in the building permit process if desired.
---
James Alabastro
President/Owner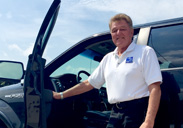 Jim has always been involved in construction. He launched his career with Chapple West in 1991 as a salesperson with ingenuity and creativity. Jim has been very involved with the pre-construction phase including: building permitting, land acquisition, project funding and working with various city planning and economic development departments. His "hands-on" construction experience equips him with a keen insight for our customers and their respective projects. Jim's United States Marine experience upholds the company motto: "Let's get the job done!"
---
Ron Brummel,
Superintendent/Owner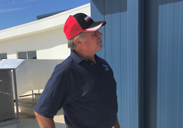 Ron Brummel, a Sugar Grove native, brings "field experience" to a whole new level. At an early age, Ron became involved in the agricultural industry, initially in livestock and currently in grain farming. He has also owned and operated a successful excavation business for over 35 years and holds a County and State license for septic system installation and maintenance. Ron is also part owner of local establishment Calamity Jane's Bar and Restaurant in Sugar Grove, founded in 2011. In whatever spare time Ron might have, he also enjoys a host of outdoor activities including NTPA and ITPA truck pulling where his "Orange Krush" reached finals in Illinois State and the U.S. Hot Rod Association. Ron became a partner with Chapple West in May of 2015 and he brings a wealth of experience to the field.
---
John Rosenwinkel,
Project Manager
John got his start in construction working with his father as a home builder. His "hands-on" experience coupled with his subsequent professional experience with Ceco Building Systems and also Kirby Building Systems makes him an excellent addition to the Chapple West team. John is very familiar with the metal building systems along with the various construction trades. He's well versed in project management, sales, estimating and project scheduling and he always ensures that the project progresses smoothly from the inside out.